1. When will shipment be dispatching for domestic and international order?
All orders will be scheduled to dispatch to its destination within 2 business days from time/date when official order and payment is received in FULL.
2. How do I measure my TV screen/monitor so I know which filter model to order?
We recommend that you measure your screen with frame/border and compare the detail measurements in the (PL-BLU) Price List with the size of your preferred screen. Measure horizontally and vertically and choose the most suitable model from the list.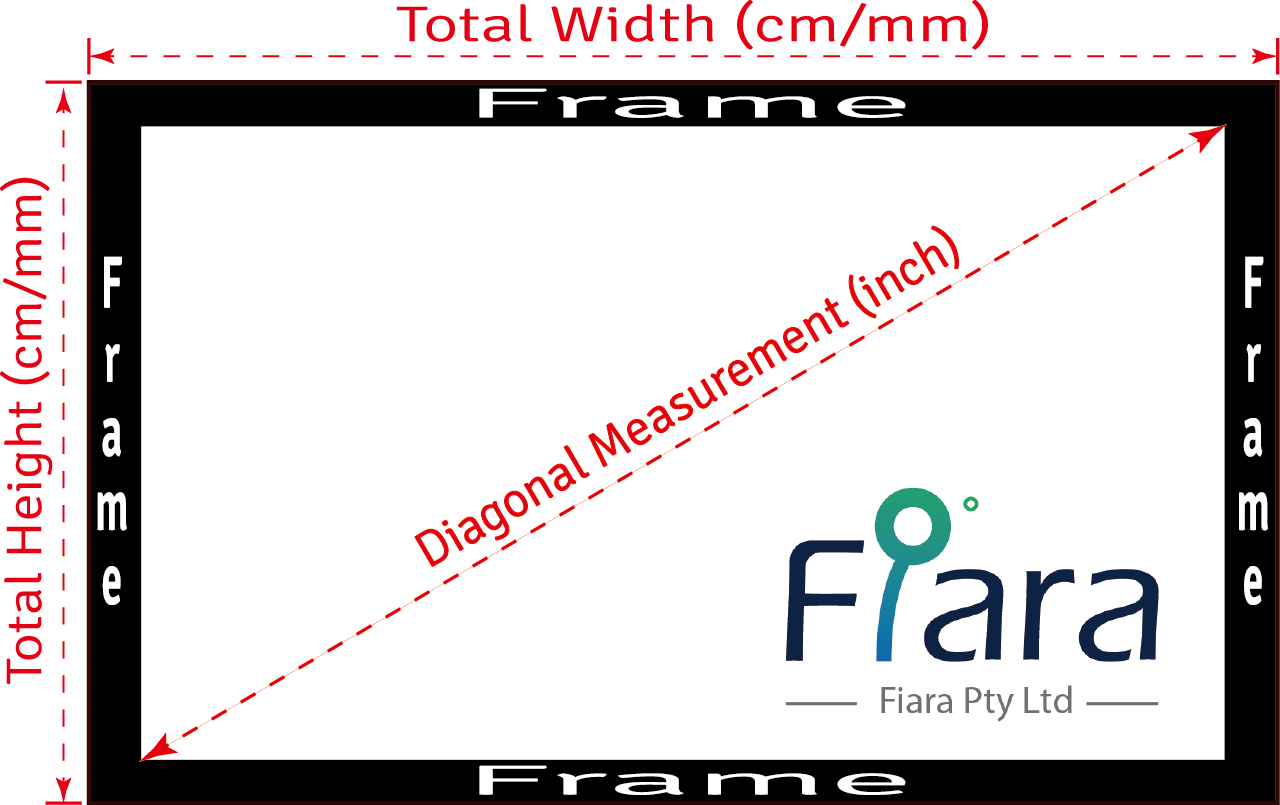 3. What is the weight?
Range from 350g for 19 inch filter to 5.07kg for 65 inch filter. For details please refer to product specifications.

4. What do I get when I order?
(1) Fiara anti-blue light filter ready to hang to your screen
(2) Silicon beads and cleaning cloth
(3) Installation Manual
5. Does Fiara Anti-Blue Light Screen Filter affect the picture quality of my HD/3D TV?
Not entirely. The colour pattern may be slightly affected to filter the harmful blue light, but Fiara anti-blue light is designed to preserve highest level of enjoyment from your screen/monitor. Your HD picture will look almost as good as is does now, but you'll have more peace of mind as your eyes are protected.
6. Does it work on Wall Mounted TV's?
Yes, Fiara anti-blue light filter works on TV/monitor using both stands and wall mounts.
7. Will Fiara Anti-Blue Light Screen Filter works on those new Super Thin LED TV's?
Yes it does. There is no difference in installation and you can enjoy the benefits of our product like an ordinary LCD/LED screen/monitor.
8. Is it hard to install?
No. It takes less than a minute to install PL-BLU Fiara Anti-Blue Light Screen Filter. Remove it from the box, wipe off any shipping dust. Stick the silicon beads in appropriate positions. Hang it on your TV/monitor and you are done!
For detail, please refer to our installation instructions manuals for Desktop/PC/TV or Laptop filter.
9. Where is Fiara Anti-Blue Light Screen Filter manufactured?
All parts are made in Taiwan.
10. Do you offer warrantee or guarantee?
Yes, 30 days money back guarantee on product (PL-BLU Series ONLY) dissatisfaction or product faulty/defect. Please note there is no return or refund due to incorrect size. Customer will be responsible for additional logistic charges for ANY incorrect size filter(s) ordered or supplied incorrect shipping address when purchase/return/exchange/refund request is placed. For wrong order returns, full refund on purchased product price (excluding postage) will only be issued when returned item is received in its original condition.
11. Any possible reflection from external light source?
Yes, due to high quality and extreme smooth surface of our product. You may experience reflection from direct light source. Please adjust filter/screen position as desired to achieve best result. Attached links for your further information Computer Ergonomics For Healthy Vision | Computer Vision Syndrome | Apple - Ergonomics
12. What types of payment method do you accept?
We accept Paypal, eWAY, Authorised Credit Card Payment (manually credit card payment surcharge: Visa/Master 1.9% | Amex 2.6%) or Direct deposit to our bank account.
13. Can I make purchase from outside of Australia?
Yes, you can. All oversea purchases can be made via completing the Purchase Order Form and email to info@fiara.com.au